The MP Shop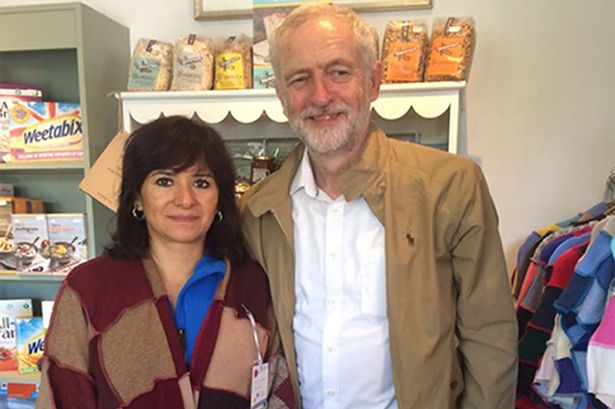 Customer (Jeremy Corbyn): Good Morning.
Owner: Good morning, Sir. Welcome to the 2019 General Election!
Corbyn: Ah thank you my good man.
Owner: What can I do for you, Sir?
C: Well, I was, uh, minding my allotment just now, and skimming through 'Things Fall Apart' by Chinua Achebe, and I suddenly came over all civic.
O: Civic, sir?
C: Governmental.
O: Eh?
C: 'Ee I were all wantin' to rule like!
O: Ah, political!
C: In a nutshell. And I thought to myself, 'some new Labour MPs will do the trick', so, I curtailed my Achebe ... Ach ... reading, sallied forth, and infiltrated your place of purveyance to negotiate the acquisition of some constituencical representatives!
O: Come again?
C: I want some Labour MPs.
O: Oh, I thought you were complaining about the bouzouki player!
C: Oh, heaven forbid: I am one who delights in all manifestations of the Terpsichorean muse!
O: Sorry?
C: 'Ooo, Ah lahk a nice tune, 'yer forced to!
O: So he can go on playing, can he?
C: Most certainly! Now then, some Labour MPs please, my good man.
O: (lustily) Certainly, sir. What would you like?
C: Well, eh, how about a little Red Leicester.
O: I'm, afraid we're fresh out of Red Leicester, sir.
C: Oh, never mind, how are you on Bolsover?
O: I'm afraid we never have that at the end of the week, sir, we get it fresh on Monday.
C: Tish tish. No matter. Well, stout yeoman, one Bassetlaw, if you please.
O: Ah! It's beeeen on order, sir, for two weeks. Was expecting it this morning.
C: 'T's Not my lucky day, is it? Aah, Great Grimsby?
O: Sorry, sir.
C: Dudley North?
O: Normally, sir, yes. Today the van broke down.
C: Ah. Sedgefield?
O: Sorry.
C: Don Valley? Leigh?
O: No.
C: Any Wakefield, per chance?
O: No.
C: Wrexham?
O: No.
C: Ashfield?
O: No.
C: Bishop Auckland?
O: No.
C: Heywood & Middleton?
O: No.
C: Kensington?

(pause)

O: No.
C: Lincoln?
O: No.
C: Wolverhampton?
O: No.
C: Ynys Môn, Clwyd, Redcar, Stroud, Glasgow, Gedling, Darlington?
O: No.
C: Chingford, perhaps?
O: Ah! We have Chingford, yessir.
C: (suprised) You do! Excellent.
O: Yessir. It's ah... it's a bit Tory.
C: Oh, I like it Tory.
O: Well,.. It's very Tory, actually, sir.
C: No matter. Fetch hither the seat de la Duncan Smith! Mmmwah!
O: I...think it's a bit Torier than you'll like it, sir.
C: I don't care how fucking Tory it is. Hand it over with all speed.
O: Oooooooooohhh........! (pause)
C: What now?
O: It's still Tory.
C: (pause) Is it?
O: Yes, sir.

(pause)

C: Barrow and Furness?
O: No.
C: Bolton North East?
O: No.
C: Burnley?
O: No.
C: Blackpool South?
O: No.
C: Birmingham Northfield?
O: No sir.
C: You... do have some Labour MPs, don't you?
O: (brightly) Of course, sir. It's an election, sir. We've got-
C: No no... don't tell me. I'm keen to guess.
O: Fair enough.
C: Uuuuuh, Workington.
O: Yes?
C: Ah, well, I'll have some of that!
O: Oh! I thought you were talking to me, sir. Mister Workington, that's my name.

(pause)

C: Stockton South?
O: Uh, not as such.
C: Uuh, Stoke-on-Trent Central?
O: No
C: Rutherglen and Hamilton West?
O: No
C: Penistone and Stocksbridge?
O: No
C: Heywood and Middleton?
O: No
C: Durham North West?
O: No
C: Crewe and Nantwich?
O: No
C: Coatbridge, Chryston and Bellshill?
O: Not -today-, sir, no.
(pause)
C: Aah, how about Warrington?
O: Well, we don't get much call for it around here, sir.
C: Not much Wa--It's the single most Labour constituency in the country!
O: Not 'round here, sir.
C: (slight pause) and what IS the most Labour constituency 'round hyah?
O: Peterborough, sir.
C: IS it.
O: Oh, yes, it's staggeringly Labour in this manusquire.
C: Is it.
O: It's our number one left winger, sir!
C: I see. Uuh... Peterborough, eh?
O: Right, sir.
C: All right. Okay. 'Have you got any?' He asked, expecting the answer 'no'.
O: I'll have a look, sir.. nnnnnnnnnnnnnnnno.
C: It's not much of a election, is it?
O: Finest in the land sir!
C: (annoyed) Explain the logic underlying that conclusion, please.
O: Well, it's so clean, sir!
C: It's certainly uncontaminated by Labour MPs.
O: (brightly) You haven't asked me about Rother Valley, sir.
C: Would it be worth it?
O: Could be.
C: Have you --SHUT THAT BLOODY BOUZOUKI OFF!
O: Told you sir...
C: (slowly) Have you got any Rother Valley?
O: No.
C: Figures. Predictable, really I suppose. It was an act of purest optimism to have posed the question in the first place....... Tell me:
O: Yessir?
C: (deliberately) Have you in fact got any Labour MPs here at all?
O: Yes,sir.
C: Really?

(pause)

O: No. Not really, sir.
C: You haven't.
O: Nosir. Not a scrap. I was deliberately wasting your time,sir.
C: Well I'm sorry, but I'm going to have to shoot you.
O: Right-0, sir.

(The customer takes out a gun and shoots the shopkeeper)

C: What a senseless waste of human life.