The Last Move: Readable.com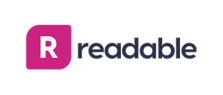 When I first launched my readability scoring website, it was something of an afterthought - some code I wrote relatively quickly as a learning exercise. It proved useful, so I rewrote it to a higher standard and pushed it live on readability-score.com. It continued to grow, and developed into a business, and ended up at readable.io.
I quite liked readable.io. The io TLD is popular with tech crowds, and has decent trust credentials due to its high cost. But I had my eye on readable.com for a long time, and in late 2018 had the opportunity to negotiate to acquire it. Thanks to the lovely owners wanting to see it used for a business like mine, those negotiations were successful.
So it gives me great pleasure to announce - hopefully for the last time - that the site once known as Readability-Score.com, and then as Readable.io, will now be located at readable.com!