Introducing the All-New Readability-Score.com!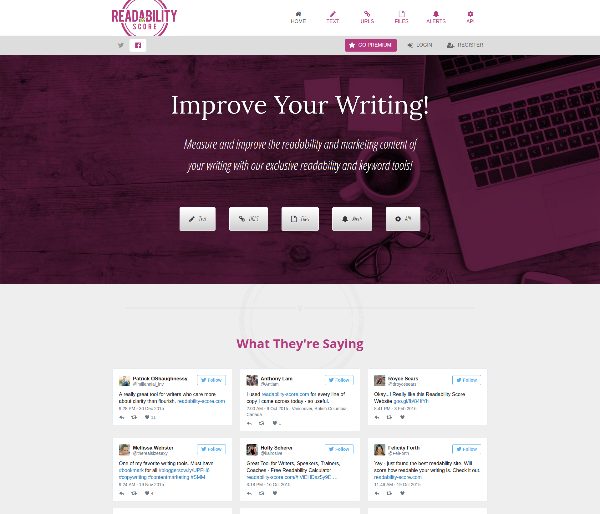 Earlier in the month, I wrote up my run-through the old Readability-Score.com, which identified the areas I wanted to change the most and that I've been working on through the month. The new version is now up and running (go check it out!) and I wanted to run through what I'd changed.
Before: Messy, Unprofessional, 90s Throwback ... Not Good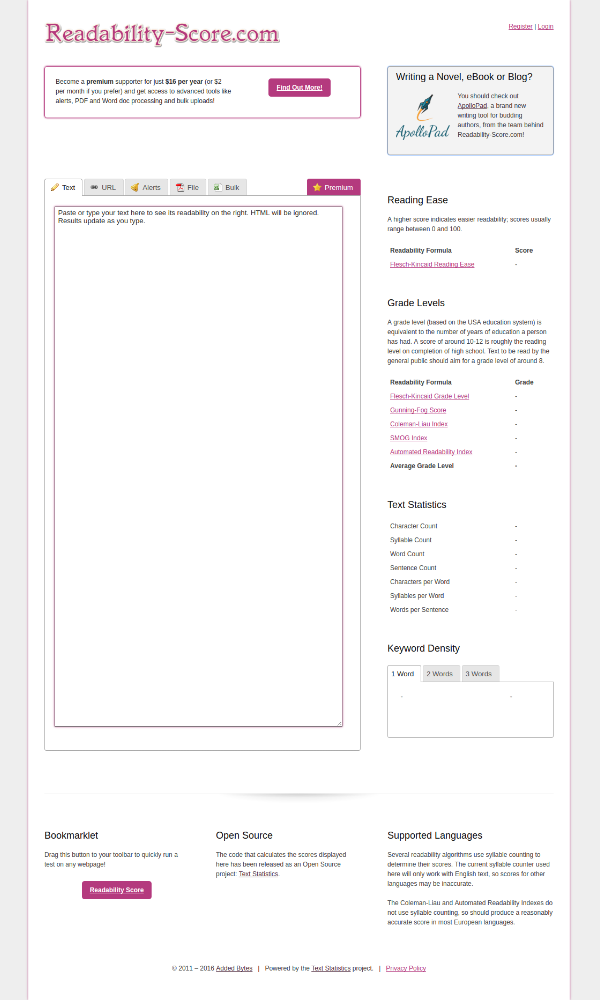 After: Clean, Clear, Engaging, Positive and Pleasant!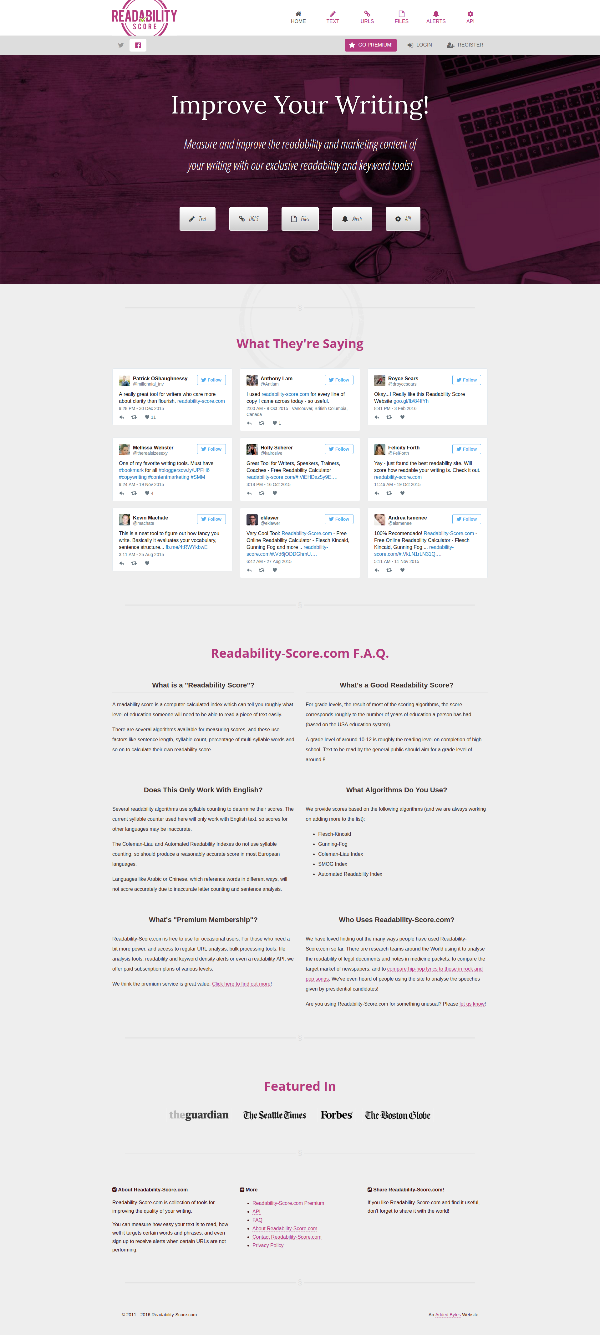 What's Different?
There are a lot of changes, and I don't want to bore you with detail, so I'll stick to the highlights.
I've added lots of new functionality to the site, but the biggest additions are keyword density analysis, keyword density alerts and a Readability Scoring API. The alerts I'm already finding tremendously useful with clients where SEO is a concern, as it allows me to monitor their content to ensure it stays within acceptable limits for their target keywords.
The API is something that had been requested a lot, and forms one of the key offerings of the new "Business-Level" premium membership. The membership structure has had a complete overhaul:
Free usage is now limited. It's enough for occasional casual users to keep using it for free, but will push regular users to subscribe, which seems sensible.
A new business tier membership, with no limits on file processing and access to the API.
On the subject of passwords, the old site auto-generated passwords and didn't allow you to change them. There was also no password reset. It was crude, and cost me a lot of support time. No more! The new system allows for proper setting (and resetting) of passwords, changing of email address, timezone settings and some preference settings for premium users. So far, that's resulted in a much reduced support cost for the site.
The alert system has another addition to go with the new keyword density alerts - word count alerts. The site will monitor a URL for word count, keyword density, and readability - it checks your URL every day for each of your alert items, and will email you if there is a problem with any of them.
The scoring software has had a large update as well, and now should be much more accurate. There's an intrinsic problem measuring pasted text or URLs, and that is that it is difficult to know when sentences are just sentences, or when a title (which doesn't end with punctuation) is running into a sentence and they are joined together. The new site is much better at detecting sentences without punctuation. It does get things wrong though, so when it processes text is also now shows you the results of that processing, so that you can, if you like, edit and improve the automatic processing and re-score your text.
Finally, the most prominent change - a brand new logo! I went with 99designs, a service I'd used before, and started a guaranteed contest. Over 100 designs were submitted, and there were some really nice pieces of work produced. Ultimately, the choice I went for fit nicely with the style of the site and the space available. It was a tough choice, but after living with it for a few weeks I'm really happy with the choice.
Old Logo

New Logo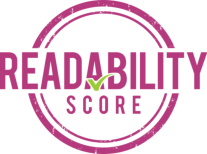 So there we have it - a complete design overhaul from top to bottom, new premium offering, real pages instead of tabs, updated sales process, and real password and account systems. A good first step towards a more profitable site!